Raptor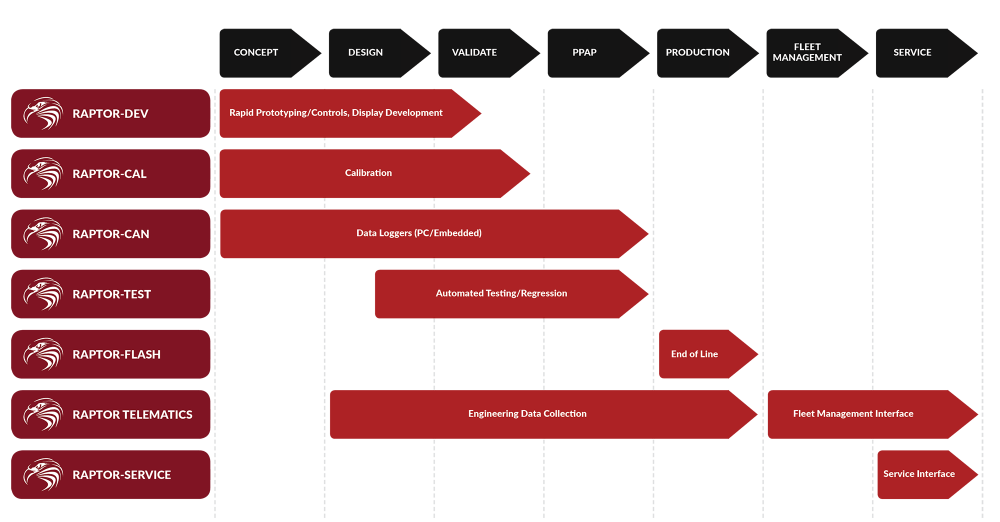 Raptor is New Eagle's embedded Model-Based Development (eMBD) platform which is a suite of software tools matched with off-the-shelf controller and display hardware designed to assist businesses as they develop control software for complex electromechanical systems, such as those found in hybrid or electric vehicles, mobile hydraulic systems, internal combustion engines, or other complex systems. The Raptor tool chain consists of 7 unique software products: Raptor-Dev, Raptor-Cal, Raptor-CAN, Raptor-Test, Raptor-Flash, Raptor-Telematics, and Raptor-Service. Each of these tools' features, functionality, and workflows were designed by experienced application engineers hoping to improve upon the shortcomings of other software tools currently on the market.
The Raptor Toolchain is designed to work with an extensive line of automotive-grade, production-ready control modules and displays. Developers can easily create, compile, build, and flash their Simulink model onto ruggedized, off-the-shelf hardware without the hassle of manual programming. Supporting a variety of ECUs that range in pin count, I/O capabilities, and processor configuration allows developers to select a commercially available off-the-shelf (COTS) ECU that matches their application.
Raptor Products Guide  What is Raptor? Video  Raptor Platform Information
.